AN EXTENSIVE NETWORK OF INLAND BARGE CONNECTIONS
Rotterdam's location at the mouth of the rivers Rhine and Meuse presents companies with unique possibilities for the efficient, reliable and sustainable transport of containers over water. Inland barges provide daily connections between ECT's deepsea terminals and numerous destinations in the Netherlands, Germany, Belgium, France and Switzerland. Through Hutchison Ports Europe Intermodal (HPEI), ECT and its partners are also maintaining more and more own barge services to and from a growing number of inland terminals.
A recently introduced service is the 'Intercity Barge'. This barge service connects the terminals of ECT at the Maasvlakte with the terminals and depots in the Waal-/Eemhaven area, Botlek area, Merwede harbor (Merwedehaven), Ridderkerk and Alblasserdam. The Intercity Barge bundles containers at these terminals and depots, to be able to transport larger call sizes to and from the Maasvlakte. The Interciy Barge uses fixed windows at the ECT terminal and can therefore of sustainable and efficient but above all reliable transport.
Every week more than 400 inland vessels call at the ECT Delta terminal and the ECT Euromax terminal. Whenever possible, these vessels are unloaded and loaded directly adjacent to the deepsea ships at the deepsea quays. In addition, ECT offers the inland shipping sector dedicated transhipment facilities in the Hartelhaven port area and at the Delta Barge Feeder Terminal at the northernmost point of the Delta peninsula. In conjunction with the inland navigation sector, ECT is continuously working on new ways to expedite handling.
Please check the document 'procedure barge handling' for more information about the handling of barges at ECT.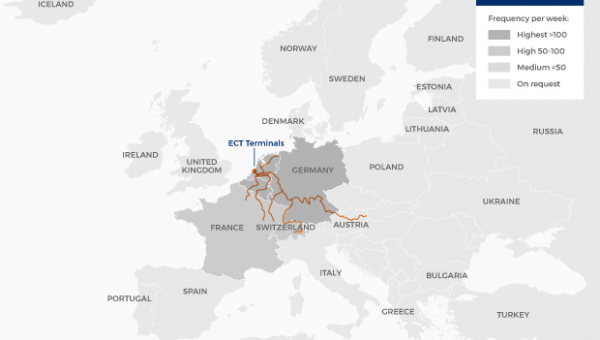 Barge connections from ECT Rotterdam into Europe